---
Since 1987 Physicians for a National Health Program has advocated for reform in the U.S. health care system. A large part of our work involves mobilizing physicians, other health care workers, and the general public to actively advocate for enactment of a national, comprehensive, high quality, non-profit, publicly-funded health care system serving all residents of the United States.
---
Chuck Pennacchio, PHD
---
Chuck Pennacchio, President of One Payer States since 2009, is staying in Seattle till the end of March. Twenty-four folks attended the very enlightening meeting. Chuck told us about the history of One Payer States, what it has been doing in the 22 states it now has chapters as well as individual members across the country, and what plans OPS has for the future.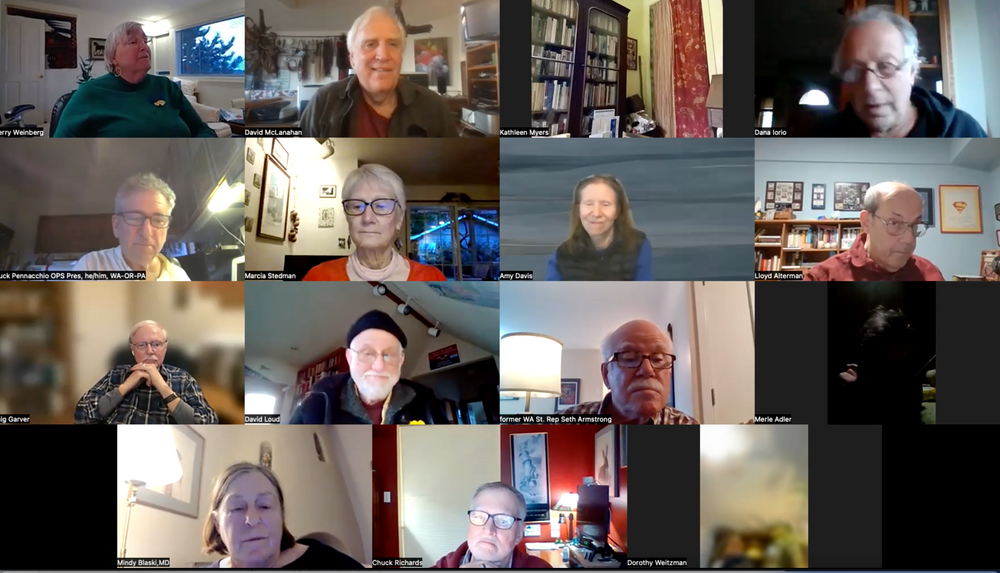 Chuck is a five-decade issue, electoral, and union organizer; a 32-year history and politics professor, and aide to four U.S. Senators and one U.S. House Member, 1979-1988 among other impressive activities.

Discussion/Q&A included ERISA waivers; state-based universal health plans & Ro Kanna's enabling bill; what strategies states are using to get their bills enacted; how do we appeal to other less progressive groups as well as we have to be concerned about building bridges with allies; the importance of WA's Universal Health Care Commission; and the importance of efficiency, social equity and full support for reproductive care and bodily autonomy in Single Payer legislation. Links to materials discussed were provided.

Watch the YouTube video of the meeting here

Chris Currie's updated eBook "A Medicare for All Q&A"- Click here
---
---
*Mon, March 20th, 5:00pm - PSARA Webinar featuring Dr. Ed Weisbart - "Don't Let Naked Profiteering Destroy Our Medicare" - Register here

*Thurs, March 23rd, 6:00pm - "America's Ongoing Public Health Emergency" - with Drs Farzon Nahvi and Abdul El-Sayed - Register here

*Tues, March 28, 6:00pm - "Labor, Veterans, and the fight against the privatization of the VA" - with Suzanne Gordon, Steve Early, PNHPWA's Andy Wellens, and other speakers; 6:30pm in person at the WSLC office, 321 16th Ave S, Seattle
---
---
---
UW SNaHP Feb 27th Meeting - "Contrasting Physician Experience in US & Canada" - Zoomed to 5 med school campuses
---
PNHPWA Feb 15th Monthly Meeting
"Building a Multiracial Party & Candidates with a People's Agenda"
---
Working Families Party of MLK County
---
Vanessa Clifford will be the new Northwest Working Families Party Regional Director, arriving in Seattle in June. She told us about the WFP - "a multiracial party that fights for workers over bosses and people over the powerful. WFP works with on-the-ground folks and for two decades has recruited, trained and helped elect transformational leaders across the country. WFP takes on elections from city council to US Senate – wherever there is a path to win and where winning will advance a people's agenda, elevate visionary candidates, and help build the multiracial movement we need to win the America we deserve."
We had a lively discussion on how WFP can amplify its work with other progressive organizations in Washington State.
View Video of the meeting here
---
:
---
The George Martin Student Scholarship Fund now has more than $24,000 in contributions! It provided support for the Feb 27th UW SNaHP Meeting
---
NEWS UPDATE - Campaign to Stop Medicare Privatization
CMS announced it has changed its ACO-REACH program to privatize Medicare. It will not enroll any more plans or patients until the "model" and its results are evaluated. This turn of events is due to the outrage and advocacy of more than 300 organizations across the country, including PNHPWA. CMS has scaled back plans to have all Traditional Medicare beneficiaries covered under the privatized ACO-REACH by the end of this decade. The growth of ACO-REACH has ended! Instead of all 36 million Traditional Medicare beneficiaries being enrolled by 2030, the "test model" it will be limited to the current 2 million enrollees. At the start of the plan in January 2023, 132 "organizations" were enrolled in REACH. Now, no further plans will be enrolled!

It is important to recognize this victory, but it is equally important to continue demanding fundamental changes to the way federal policymakers conduct business. We must continue to demand the end of ACO-REACH altogether and the replacement of Traditional Medicare and Medicare Advantage with Improved Medicare for All.

Recent articles to read & absorb the information:
1. JAMA article by Don Berwick - "Salve Lucrum" ("Hail Profit")
2. Pramila Jayapal's Member of Congress sign-on letter to Biden, Becerra, & CMS regarding limiting Medicare Advantage plan rip-offs & using the savings to strengthen Traditional Medicare.
---

Why did you join PNHP - who brought you in? Was it a mentor, a colleague, a friend, or someone else entirely. We would love to hear how you joined our movement.
Contact dixon@pnhp.org for guidelines about recording a short video telling your story.
Take More Action - The PNHP ACO Reach Photo Petition
If you are a Physician, Student, Activist, Patient, or a Senior please download the sign. Take a selfie of yourself holding the sign and email the photo to lori@pnhp.org.
---
ACO-REACH has the goal goal to completely privatize Medicare by 2030 - Here's a website with information you need to help end ACO-REACH - ProtectMedicare.net
---
---
Jan 26 - PNHP Webinar - "Exposing the Profiteers behind Medicare REACH"- View YouTube video here

---
PNHPWA January 18th Monthly Meeting
---
Dennis Kucinich
---
Dennis Kucinich, former Congressman from Ohio and longtime Single Payer advocate, talked about the possibilities of moving forward with Single Payer - Improved Medicare for All, in the coming Legislative session and the dangers of privatization of Medicare.
His talk was followed by a lively Q&A. 50 people attended.
View the YouTube video of the meeting here

His latest book "The Division of Light and Power" chronicles the story of a fight against privatization of a public municipal utility.
---
---

Boston November 4-6
Discussion led by attendees Hugh Foy, John Kearney,
Scotty Killian, and David McLanahan
---
Watch the Video of the PNHPWA Nov 16 Monthly Meeting
PNHP Annual Meeting Resources and Materials
PNHP Film Room - Lots of films on Single Payer
Adam Gaffney updates famous PNHP Slideshow


1. Donald Cohen - "The Privatisation of Everything" - watch video


2. Linda Villarosa - "The Hidden Toll of Racism on American Lives and the Health of Our Nation" - watch video

Workshops: (check here for materials & slideshows)
1. Opportunities for Federal Action
2. Lesson from COVID in Caring for the Underserved - Video
3. Medicare Advantage: What Single Payer Advocates need to know - Ed Weisbart's video
4. Students for a National Health Program Summit and Leadership Training
5. Organising Physicians through Unionisation - Residency and Beyond - Video
6. Building Business Support for Single Payer
7. Reproductive Rights in the Post-Roe Era
8. PNHP Board Meeting Discussion & Summary
PNHP Board meeting
AND

1. Growing our legislative advocacy
2. Confronting Profiteers
3. Building Relationships and Organising the Allies we need to Win
4. Building networks in every medical association
Watch the Video of the PNHPWA Nov 16 Monthly Meeting
---

Recent Articles and Reports Shed Light on Medicare Advantage Issues
News You Won't Hear from Private Plans During this Enrolment Season
---
---
Suzanne Gordon is a senior policy analyst at the Veterans Healthcare Policy Institute, as well as a journalist and co-editor of a Cornell University Press series on health care work and policy issues. Her latest book, Our Veterans: Winners, Losers, Friends, and Enemies on the New Terrain of Veterans Affairs, will be released on August 5th by Duke University Press. She has won a Special Recognition Award from Disabled American Veterans for her writing on veterans' health issues, much of which has appeared in The American Prospect. Prior work includes Wounds of War: How the VA Delivers Heath, Healing and Hope to the Nation's Veterans. Her website is www.suzannegordon.com.


In the Q&A/discussion, PNHPWA Board Member Andy Wellens joined in. For the past 15 years, he has received care in the VA system in Michigan, California and Washington.
This program was of special interest to us as national PNHP's priority this summer and beyond is fighting the stealth DCE/ACO-REACH entities effort to totally privatize Traditional Medicare. Suzanne's knowledge and experience fighting the privatization of our unique VA system has bearing on this struggle. We also looked at how the VA's experience serving the needs of veterans within its integrated care system can be preserved when we achieve Improved Medicare for All.
View Video here
---

- WA Universal Health Care Commission hearing

May 23 - PNHP webinar kickoff of our expanded national "Turning up the Heat on Direct Contracting and Reach Campaign" - Physicians, Seniors & Reps Jayapal, Pocan, Porter, Schakowsky spoke - Watch Video

You can help our coalition by signing on to the letters to Pres. Biden and our Congressional delegation asking the end to the ACO-REACH entities and all methods of privatizing Medicare. PSARA will be sending these each month to include new organizational and individual signers. The next batch will go out June 1st, followed by July 1st. Please forward these lists to your organizations and friends.
Click HERE to sign the letter to Biden — Don't Privatize Medicare
Click HERE to sign the letter to Washington's Congressional Delegation

Turning Up the Heat Toolkit
Call-in scripts for the White House and Congress
Call the U.S. Capitol Switchboard at (202) 224-3121 between 9:00am and 5:00pm Eastern, Monday through Friday
Call President Biden at (202) 456-1111 between 11:00am and 3:00pm Eastern, Tuesdays through Thursdays
One-page handout: Direct Contracting and REACH, Handing Traditional Medicare to Wall Street
Share your Medicare story: See our one-page handout for tips, and use THIS FORM to share your story
Post to social media using the hashtag #StopREACH — please link to any or all of our materials!
ProtectMedicare.net website - tons of info & updated regularly
---
---
---
PNHPWA Web Site - pnhpwashington.org
PNHPWA Email - pnhp.washington@gmail.com
PNHPWA YouTube Channel
PNHPWA Instagram
Coalition Partner Websites
Health Care for All Washington
Health Care is a Human Right Washington
Puget Sound Advocates for Retirement Action
---
---


---
---
This meeting was particularly timely as PNHP, PSARA, and other organizations in our state are organizing to fight the complete privatization of Medicare through the DCE/ACO-REACH models that have recently come to light.
Watch the meeting video
---

"How to Rebut Arguments in Favor of DCEs & ACO-REACH"
Ed Weisbart, MD
---
Dr. Weisbart is on the Board of Physicians for a National Health Program and speaks frequently on health policy issues.
Ed presented a deep dive into the DCE ACO/REACH program that continues on track to fully privatize Traditional Medicare by 2030.
Watch it on YouTube.


---

"Next Steps for Health Care Reform in Washington and Beyond"
Andre Stackhouse, Campaign Director for Whole Washington
Watch the meeting here
---

"Mobilizing to Stop DCE's"
Watch the meeting here
---
January 2022 Monthy Meeting
"Strengthening Our PNHP Chapter in 2022"
Glen Anderson - Activist, teacher
Watch the Video Here
---
---
---
October 2021 Monthly Meeting
"The Current Status of Health Care Reform
and Improved Medicare for All in Congress"
Dr. Rachel Madley, PhD
Watch the meeting here
---
---
---

"PNHPWA Board Retreat Decisions"
Chuck Richards
Video of the meeting here
---
---

"America's Mighty Medical-Industrial Complex:
Negative Impacts and Positive Solutions"
John Geyman, MD
Watch the meeting here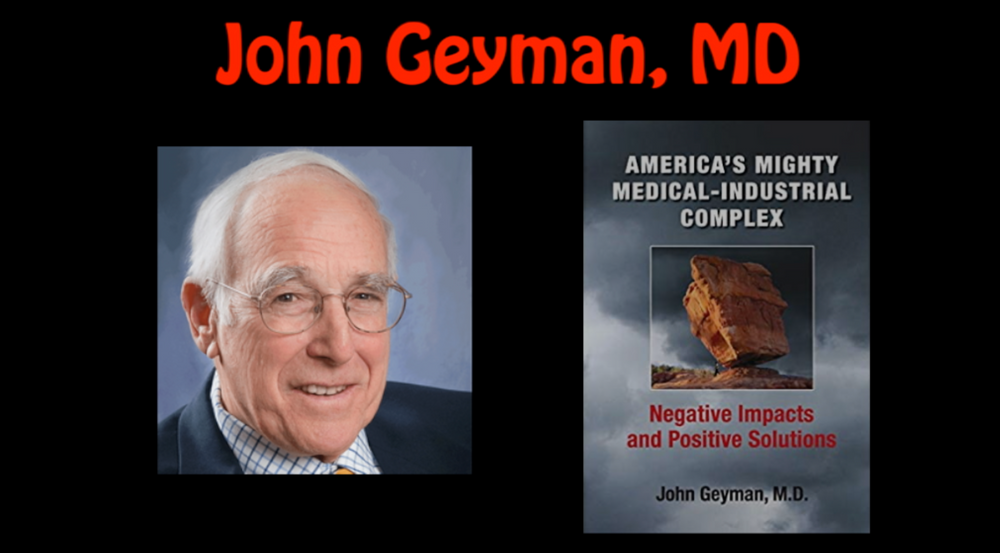 Download John's Powerpoint slides here
---
---
---
---
---
---

"Conversations across Differences"
Robert Reich (video)
Watch the meeting here
---
---
---

Most of us still hold to the belief that we are united by the credos of American democracy. That supposed democracy, however, is under attack from within. An economic ideology of unregulated corporations, privatization of public programs, and a limited role of government, has divided us along lines of income and wealth. Decline of the middle class has become associated with increasing inequality and continued systemic racism.

As the U. S. electorate becomes more diverse, white nationalism has driven a wedge into our unity. We have seen an alarming increase in the number of hate groups and violence across the country. Our two major political parties have become more divided than ever as large groups on the right still buy into Trump's Big Lie, without any evidence, that the 2020 presidential election was stolen.

Later chapters deal with approaches to rebuild unity and sense of community through rekindling traditional American values, confronting the excesses of Wall Street and oligarchy, and a larger role of responsive government for the common good.

Order Book here






"In less than 200 readable pages, with footnote references to follow up, Dr. Geyman lays out key approaches to rebuild unity and sense of community. He shows how this restoration is in our own hands, for "we the people" are the sovereign power under our constitution. The good doctor gives us the prescription. Let's take and use it as our ways of living.

This is that rare book of universal appeal and action to give to your local library and discuss at your local book club or neighboring gathering.

Ralph Nader, activist and founder of Public Citizen
---
.
---
---