---
Since 1987 Physicians for a National Health Program has advocated for reform in the U.S. health care system. A large part of our work involves mobilizing physicians, other health care workers, and the general public to actively advocate for enactment of a national, comprehensive, high quality, non-profit, publicly-funded health care system serving all residents of the United States.
---
-
There will be no August 17 PNHPWA Monthly Meeting

August 10th, 7:00p - HCFA WA Second Wednesday Speaker Series - has invited AnnaLisa Gellermann, JD, Board Manager Washington Health Care Authority, Wednesday, Aug 10th to describe the work of the "Washington Health Care Cost Transparency Board".
What does the board do? Who makes up the board? What do the advisory committees do? Can Washington State really lower health care costs? Bring your questions.
---
- PSARA
sponsors Righteous Mothers benefit concert to stop privatization of MedicareMachinist's Hall, 9125 15th Place S, Seattle. It will be a night of music, entertainment, and camaradarie with a glass of wine and some dessert - or live stream the concert in the comfort of your home with a bowl of popcorn and your favorite beverege. Rep. Pramila Jayapal will speak. For more info click here



---
Past Events
---
Suzanne Gordon is a senior policy analyst at the Veterans Healthcare Policy Institute, as well as a journalist and co-editor of a Cornell University Press series on health care work and policy issues. Her latest book, Our Veterans: Winners, Losers, Friends, and Enemies on the New Terrain of Veterans Affairs, will be released on August 5th by Duke University Press. She has won a Special Recognition Award from Disabled American Veterans for her writing on veterans' health issues, much of which has appeared in The American Prospect. Prior work includes Wounds of War: How the VA Delivers Heath, Healing and Hope to the Nation's Veterans. Her website is www.suzannegordon.com.


In the Q&A/discussion, PNHPWA Board Member Andy Wellens joined in. For the past 15 years, he has received care in the VA system in Michigan, California and Washington.
This program was of special interest to us as national PNHP's priority this summer and beyond is fighting the stealth DCE/ACO-REACH entities effort to totally privatize Traditional Medicare. Suzanne's knowledge and experience fighting the privatization of our unique VA system has bearing on this struggle. We also looked at how the VA's experience serving the needs of veterans within its integrated care system can be preserved when we achieve Improved Medicare for All.
View Video here
---

- WA Universal Health Care Commission hearing

May 23 - PNHP webinar kickoff of our expanded national "Turning up the Heat on Direct Contracting and Reach Campaign" - Physicians, Seniors & Reps Jayapal, Pocan, Porter, Schakowsky spoke - Watch Video

You can help our coalition by signing on to the letters to Pres. Biden and our Congressional delegation asking the end to the ACO-REACH entities and all methods of privatizing Medicare. PSARA will be sending these each month to include new organizational and individual signers. The next batch will go out June 1st, followed by July 1st. Please forward these lists to your organizations and friends.
Click HERE to sign the letter to Biden — Don't Privatize Medicare
Click HERE to sign the letter to Washington's Congressional Delegation

Turning Up the Heat Toolkit
Call-in scripts for the White House and Congress
Call the U.S. Capitol Switchboard at (202) 224-3121 between 9:00am and 5:00pm Eastern, Monday through Friday
Call President Biden at (202) 456-1111 between 11:00am and 3:00pm Eastern, Tuesdays through Thursdays
One-page handout: Direct Contracting and REACH, Handing Traditional Medicare to Wall Street
Share your Medicare story: See our one-page handout for tips, and use THIS FORM to share your story
Post to social media using the hashtag #StopREACH — please link to any or all of our materials!
ProtectMedicare.net website - tons of info & updated regularly
---
---
Must Watch - Kip Sullivan's presentation: "Do We Really Have To Kick Out the Insurance Companies?" Click VIDEO and SLIDES to view his talk.
---
PNHPWA Web Site - pnhpwashington.org
PNHPWA Email - pnhp.washington@gmail.com
PNHPWA YouTube Channel
PNHPWA Instagram
Coalition Partner Websites
Health Care for All Washington
Health Care is a Human Right Washington
Puget Sound Advocates for Retirement Action
---
---


---
---
This meeting was particularly timely as PNHP, PSARA, and other organizations in our state are organizing to fight the complete privatization of Medicare through the DCE/ACO-REACH models that have recently come to light.
Watch the meeting video
---

"How to Rebut Arguments in Favor of DCEs & ACO-REACH"
Ed Weisbart, MD
---
Dr. Weisbart is on the Board of Physicians for a National Health Program and speaks frequently on health policy issues.
Ed presented a deep dive into the DCE ACO/REACH program that continues on track to fully privatize Traditional Medicare by 2030.
Watch it on YouTube.


---

"Next Steps for Health Care Reform in Washington and Beyond"
Andre Stackhouse, Campaign Director for Whole Washington
Watch the meeting here
---

"Mobilizing to Stop DCE's"
Watch the meeting here
---
January 2022 Monthy Meeting
"Strengthening Our PNHP Chapter in 2022"
Glen Anderson - Activist, teacher
Watch the Video Here
---
---
---
October 2021 Monthly Meeting
"The Current Status of Health Care Reform
and Improved Medicare for All in Congress"
Dr. Rachel Madley, PhD
Watch the meeting here
---
---
---

"PNHPWA Board Retreat Decisions"
Chuck Richards
Video of the meeting here
---
---

"America's Mighty Medical-Industrial Complex:
Negative Impacts and Positive Solutions"
John Geyman, MD
Watch the meeting here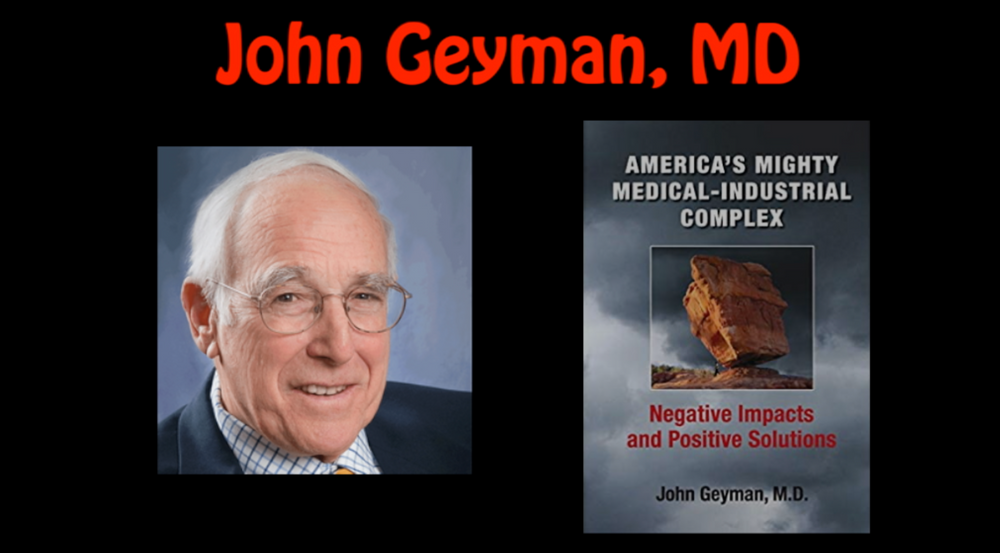 Download John's Powerpoint slides here
---
---
---
---
---
---

"Conversations across Differences"
Robert Reich (video)
Watch the meeting here
---
---


Healthcare Now has made several videos of the plenary session and workshops from its excellent Jan 18-24
Medicare for All 2021 Strategy Conference available:
Pramila Jayapal: Victories and Challenges Ahead for the M4A Bill - here
Panel: Where We Go from Here: Lessions for the Movement - here
COVID-19 Pandemic: Opportunities for Medicare for All - here
False Promise of the Public Option - here
Medicare for All and the Future of Labor - here
Implicit Bias, Health Inequities, and Medicare for All - here
Medicare for All and Racial Justice - here
Single Payer 101 + Biden's Plans - here
Shaping the Fight in a New Organizing Landscape - here
Notes on Developing Leadership - here
---
---
---
The rise of an enormous medical-industrial complex (MIC) over the last 60 years in the United States has brought wealth to ever-larger corporations, their shareholders and CEOs at the expense of most Americans who struggle gaining access to affordable health care.

Despite its might on Wall Street, the MIC has left our country poorly prepared to meet the challenges of the coronavirus pandemic, together with its resultant economic downturn. Add the third simultaneous challenge -systemic racism, made obvious by the inequities of disproportionate numbers of COVID-19 deaths among minorities.

This book describes how the status quo that puts profits ahead of care for patients and families is untenable. It describes three alternative approaches to health care reform, and shows what a 'new normal' can and should look like based on evidence and values of equity and service instead of profiteering, corruption and fraud.

This will be an ultimate battle royal between corporate America and Main Street that we can't afford to lose.

Order Book here





"The best guide to the corporate driven corruption that has overtaken health care, and how the search for profit elbowed aside medical ethics and the best traditions of the medical profession"

David Himmelstein, MD and Steffie Woolhandler, MD
---
.
---
---