---
Since 1987 Physicians for a National Health Program has advocated for reform in the U.S. health care system. A large part of our work involves mobilizing physicians, other health care workers, and the general public to actively advocate for enactment of a national, comprehensive, high quality, non-profit, publicly-funded health care system serving all residents of the United States.
---
---
This meeting is particularly timely as PNHP, PSARA, and other organizations in our state are gearing up to fight the complete privatization of Medicare through the DCE/ACO-REACH models that have recently come to light.
We are very fortunate to have Donald Cohen as our speaker. He is the founder and executive director of In the Public Interest, a national research and policy center that studies public goods and services. He is the former political director of the San Diego-Imperial Counties Labor Council. He is the founder and former executive director of the Center on Policy Initiatives, a San Diego-based think tank and policy organization. He is a founding board member of PowerSwitch Action (formerly Partnership for Working Families.)
His opinion pieces and articles have appeared in numerous publications including the New York Times, Reuters, the Los Angeles Times, The New Republic, The Nation and other online and print outlets.
Donald is currently on the board of the Ballot Initiatives Strategy Center. He's the co-author (with Allen Mikaelian) of The Privatization of Everything: How the Plunder of Public Goods Transformed America and How We Can Fight Back. You can read this book before the meeting ordering through Barnes & Noble, Bookshop.com, or Amazon
He is also the co-author of the forthcoming book in October 2022 in (with (Seattle's) Nick Hanauer and Joan Walsh) of It's Never Our Fault (And Other Shameless Excuses.) He lives in Los Angeles.

REGISTER FOR MEETING
---
Watch if you Missed
May 9 - PNHP Roundtable Discussion on "DCE's & REACH: Health Equity or Private Equity?" - Drs. Susan Rogers, Linda Rae Murray, Claire Cohen, Abdul El-Sayed. Watch and Share here
---

Saturday, May 14th, 11AM - National Day of Action for Abortion Rights - March from Cal Anderson Park - Info : for other areas in WA State
Mon, May 23, 10am - PNHP webinar kickoff of our expanded national "Turning up the Heat on Direct Contracting and Reach Campaign" - Physicians, Seniors & Reps Jayapal, Pocan, Porter, Schakowsky will speak - Register here
Tues, May 24 - 4:30pm Pacific Time - PNHP New York Metro Forum "Universal Healthcare IS Reproductive Healthcare - Register

Thurs, June 16 WA Universal Health Care Commision Meeting - 3-5pm Meeting materials & to sign up to testify here
---


"How to Rebut Arguments
in Favor of DCEs & ACO-REACH"

Ed Weisbart, MD
---
Dr. Weisbart received his medical degree at the University of Illinois in Chicago in 1979 and completed his family medicine residency and a fellowship in family medicine education at Michigan State University in 1982. He practiced family medicine in Chicago and Missouri for 37 years before retiring in 2021. He is on the Board of Physicians for a National Health Program and speaks frequently on health policy issues.
This meeting was very, very informative with Ed presenting a deep dive into the DCE ACO/REACH program that continues on track to fully privatize Traditional Medicare by 2030. REACH proponents are misleading some members of Congress into trusting that REACH addresses the problems inherent in the current DCE models. Ed discussed the 50 year trajectory that has been leading to this corporate takeover of Medicare, the concerns that remain with DCE/REACH, and how to respond to the misinformation thrown out there by the corporate interests pushing these models.
Thirty-eight people attended & there was a lively discussion after Ed's presentation. If you couldn't make the meeting, you can watch it on YouTube.
AN ASK: During the meeting members of Puget Sound Advocates for Retirement Action (PSARA) asked us for help getting organizations and individuals to sign on to two letters (read here) to 1) Biden, HHS Secretary Becerra, and 2) to our Congressional delegation asking to end the DCE/REACH programs by this December. Also, PSARA is working to get similar resolutions passed by local government councils & district political clubs. The goal is to get thousands of individual signatures & hundreds of organization to support this effort. You can read the letters and resolutions attached below. If you are willing to co-sign add how you would like to be designated, (e.g. your name, retired health care worker, Seattle). Also, please reach out to organizations and/or individuals you feel comfortable asking to co-sign these two PSARA letters. Follow this link to tell PSARA you would like sign on


Other News - The Congressional Progressive Caucus (Chair - Pramila Jayapal) just released its list of recommendations for Executive Action to the Biden administration. Language on ending REACH made it into that slate.
This is important - it means we have made it a political necessity for our reps to advocate for this issue at a bigger level: utilizing caucus pressure on the President.
Is your member of Congress a member of the Congressional Progressive Caucus (you can find that HERE)? Please, take the time today to call and thank them for including ending REACH in this slate.
Is your member of Congress NOT a member of the CPC? Please call them and ask them to support the CPC's request to end the program through executive action.
The U.S. House of Representatives Switchboard is (202) 225-3121. You can also find the directory HERE.
---
Must Watch - Kip Sullivan's presentation: "Do We Really Have To Kick Out the Insurance Companies?" Click VIDEO and SLIDES to view his talk.
---
Past Events
March 16: PNHPWA Monthly Meeting - "Next Steps in Health CareReform for Washington and Beyond" Chick here for video
April 2-3: Medicare for All National Strategy Conference organized by HealthCare Now Check here for videos
Wed. April 13 - HCFA - WA 2nd Wednesday Speaker Series "Legislative victories: 22 in '22" Check here for video
Thurs. Apr 14 - Universal Health Care Commission Meeting - meeting links and materials

Mon, May 9 - PNHP Panel on Medicare DCE's & REACH - 4:30pm Register here.
Wed, May 11 - HCFA-WA Wednes Speaker Series - "Controlling Health Care Costs in WA - 7:00pm - Join Meeting
Thurs, June 16 WA Universal Health Care Commision Meeting - 3-5pm Meeting materials & to sign up to testify here
---
PNHPWA Web Site - pnhpwashington.org
PNHPWA Email - pnhp.washington@gmail.com
PNHPWA YouTube Channel
PNHPWA Instagram
Coalition Partner Websites
Health Care for All Washington
Health Care is a Human Right Washington
---


"Insurance Industry Trojan Horses: What's Wrong with HMOs, ACO's, DCEs, Medicare Advantage, and Managed Care"
Dr. Stephen Kimble
Learn about the dangers of private managed care companies delivering publicly funded health plans - a cautionary tale for our WA Universal Health Care Commission. Keynote speaker Dr. Stephen Kemble is charged with overall health planning for the state of Hawaii and with designing a universal health care system covering everyone in Hawaii. He is a national PNHP Board member who heads PNHP's Anti-Privatization Workgroup - Check for video
Puget Sound Advocates for Retirement Action - Webinar on how Medicare Advantage sabotages traditional Medicare - watch it here
---


---
---
In this meeting Andre Stackhouse, the new Campaign Director for Whole Washington told us about WW's plans for 2022 & how we can collaborate more closely around both state single payer and Improved Medicare for All in 2022. Andre will be working to put together an organization "Medicare for All - Everywhere" that will invite organizations across the country working on progressive health care reform to join in active cooperation.
Watch the meeting here
---
We looked at the stealth attempt of the Direct Contracting Entities (DCE's) to completely privatize Traditional Medicare without beneficiaries knowledge or agreement.
WE first watched the 20 minute PNHP Slideshow on DCE's narrated wonderfully by Clare Fauke, PNHP Director of Communications, that you can watch on our PNHPWA YouTube channel.
At this stage in our campaign, we are gathering signatures from allied organizations for a sign-on letter requesting that HHS Secretary Becerra end the DCE program. Organizations can sign on HERE (and individuals HERE).
We elected/re-elected our PNHPWA Board members. Thanks to all current board members who agreed to serve another year. Andrew Wellens was elected as new Board member who will bring a good grasp of health care policy, passion, and enthusiasm. Andy has agreed to be our Communications Chair and help us expand our social media outreach.
Watch a video of the meeting here
---
Our speaker was Glen Anderson, activist, organizer, and teacher since the 1960's. He is involved in a number of progressive causes and plays a key role in training individuals and groups in non-violent organizing techniques. Some of Anderson's main, ongoing projects include the dismantling of nuclear weapons, ensuring social equality for women, minority groups and the disabled, opposing military spending, opposing the death penalty, promoting immigrant rights, pursuing environmental justice, and (of course) justice in h
ealth care. His involvement includes writing papers, testifying to legislative committees, founding groups opposing these topics, and writing and developing his newsletters and TV programs.
Glen used some PNHPWA member evaluations of our chapter's strenths and weaknesses as a take-off point. There was lots of discussio about how we can strengthen our chapter's impact on health care reform as we transition into the momentous year of 2022.

Watch the Video Here
---
---
Our PNHPWA meeting followed the Health Care is a Human Right General Meeting focused on HCHRWA's proposed policy priorities for 2022 intended to advance both short-term progress and movement towards guaranteed health care for all at the state and federal levels. 38 of 39 voting coalition members attended and voted overwhelmingly to adopt. Also, there were reports on Build Back Better from Rep. Jayapal's office, on our new WA Universal Health Care Commission, and on the successful strike for safety and pay at Cascade Behavioral Health. You can watch the video here
Our PNHPWA meeting was a discussion about what policies we should advocate and how we can best build our organization and organize our PNHPWA troops to make a difference in 2022. Meeting video will be posted soon
---
---
---
In this meeting we reviewed the PNHP October Annual Meeting events.
---
Past-President Adam Gaffney narrated a slideshow update of current health policy and resulting statistics, stuff we need to know.

We brought people up to date on what the PNHP National Board has been up to recently in the way of reorganization, chapter outreach & support, and new strategies for the coming year. We talked about PNHPWA plans for the near future.
Watch the meeting here
---
October 20th PNHPWA Meeting
"The Current Status of Health Care Reform
and Improved Medicare for All in Congress"
Dr. Rachel Madley, PhD
---
We were very fortunate to have Dr. Rachel Madley as our speaker. She is Pramila Jayapal's health policy staffer in DC. She received her Ph.D. at Columbia University Medical Center. She has served in multiple leadership positions and roles in Physicians for a National Health Program, NY Metro chapter, Students for a National Health Program (SNaHP), and the Campaign for New York Health.

Rachel filled us in on the latest info regarding the reconciliation Build Back Better bill, the roadmap for Congressional hearings the session for HR1976 Pramila's Improved Medicare for All gold standard and lead a wide-ranging discussion
Watch the meeting here
---



---


---
PNHPWA has always offered support to the Seattle UW School of Medicine (SOM) chapter of Students for a National Health Program (SNaHP).

In this meeting, eight members of Students for a National Health Program (SNaHP) joined us representing four medical school training sites across WA state and the WAMI region. We talked about their work and issues with which we are all concerned, and then about how PNHPWA AND SNaHP might amplify our advocacy by working more closely together. Hugh Foy, recently retired Professor of Surgery, UW School of Medicine and Harborview MC, moderated the discussion.
Watch the meeting here
---
, ARNP, Vice President of PNHPWA moderated to help us focus the discussion. Kip Sullivan, longtime guru of health care reform policy, joined us from Minnesota to add his take on incrementalism.
Watch a video of the meeting here

---


On July 17th, PNHPWA had a Board Retreat facilitated by Chuck Richards, Past-President of Health Care for All - WA.
We talked about the PNHPWA Mission Statement, ways to pressure Congress to move ahead on Improved Medicare for All in 2021-22, and plans for the coming year.
Video of the meeting here
---
On July 24th, PNHPWA joined with other local organization to demonstrate our advocacy for Improved Medicare for All (our own Rep. Pramila Jayapal's HR 1976) in the streets of downtown Seattle. Andre Stackhouse, the lead organizer for the march in Seattle brought us up to speed on the march plans at this point.
Watch the meeting video here
---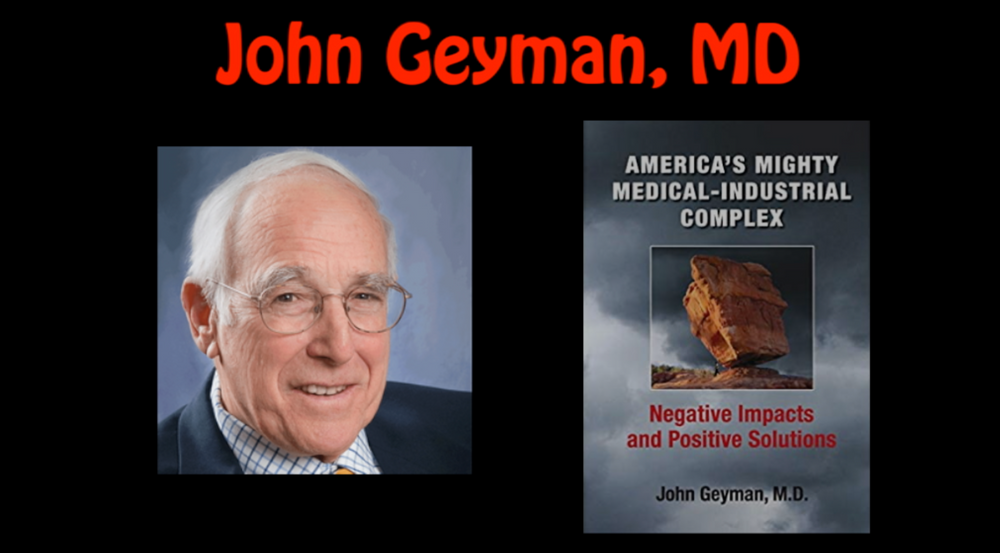 We were very honored to have Dr. John Geyman join us from Friday Harbor to discuss his latest book. It could not be published at a more timely period as the pandemic has further exposed the inadequacies in our shameful health system. We should all have this book (order here) to keep us up-to-date on what we have to know as we advocate for Improved Medicare for All in 2021.

The meeting discussion after John's presentation included a range of topics - state and national single payer advocacy, "good" and "bad" incrementalism, is the M4A movement headed in the "right" direction?, the dangers of private equity in our HC system, student debt and family practice, and more. Download John's Powerpoint slides here
---
---
Health care in rural areas has suffered over the past many years as economic interests have concentrated and consolidated health care resources in more lucrative urban areas. Rural hospitals have shut down and patients have to travel long distances to receive care.

In our meeting, Dr. Kevin Walsh described working in the public sector for over 30 years; at the Indian Health Service Clinic in Chinle, AZ, the Farm Workers Clinic in Toppenish, WA, the Eastside CHC in Bellevue and most recently in the Community Health Clinic of Central Washington in Ellensburg.

We had a lively discussion that covered Kevin's career with lots of comments and questions about providing care away from the "main stream." Watch the meeting here

PNHP's Kitchen Table Campaign on Rural Health has lots of info, handouts, video and other resources here
---
---


PNHP Western Washington has just changed its name to PNHP Washington. This indicates our hopes and plans to extend our network and truly become a strong state-wide organization as we move along in 2021 in our advocacy for Improved Medicare for All. We were very fortunate to have as our speaker Kaytlin Gilbert, PNHP's National Organizer, Zoomed in from Chicago.
Kaytlin told us about how other state or local chapters of PNHP have gone about organizing wider networks and what we can learn from those experiences.
Watch the Zoom meeting here
---
---



---
In this meeting we "participated" in a lecture by the legendary Robert Reich who talked about how to communicate effectively and convincingly with audiences that might not share the same views and values. This topic is especially appropriate at this point in time in 2021 as we advocate for Improved Medicare for All and need to bring new people into the conversation. The video is about 80 minutes but broken into segments where the 20 attendees discussed what they just heard and how it relates to our organizing for Improved Medicare for All.
You can watch the meeting here
---
---


Healthcare Now has made several videos of the plenary session and workshops from its excellent Jan 18-24
Medicare for All 2021 Strategy Conference available:
Pramila Jayapal: Victories and Challenges Ahead for the M4A Bill - here
Panel: Where We Go from Here: Lessions for the Movement - here
COVID-19 Pandemic: Opportunities for Medicare for All - here
False Promise of the Public Option - here
Medicare for All and the Future of Labor - here
Implicit Bias, Health Inequities, and Medicare for All - here
Medicare for All and Racial Justice - here
Single Payer 101 + Biden's Plans - here
Shaping the Fight in a New Organizing Landscape - here
Notes on Developing Leadership - here
---
---
---
The rise of an enormous medical-industrial complex (MIC) over the last 60 years in the United States has brought wealth to ever-larger corporations, their shareholders and CEOs at the expense of most Americans who struggle gaining access to affordable health care.

Despite its might on Wall Street, the MIC has left our country poorly prepared to meet the challenges of the coronavirus pandemic, together with its resultant economic downturn. Add the third simultaneous challenge -systemic racism, made obvious by the inequities of disproportionate numbers of COVID-19 deaths among minorities.

This book describes how the status quo that puts profits ahead of care for patients and families is untenable. It describes three alternative approaches to health care reform, and shows what a 'new normal' can and should look like based on evidence and values of equity and service instead of profiteering, corruption and fraud.

This will be an ultimate battle royal between corporate America and Main Street that we can't afford to lose.

Order Book here





"The best guide to the corporate driven corruption that has overtaken health care, and how the search for profit elbowed aside medical ethics and the best traditions of the medical profession"

David Himmelstein, MD and Steffie Woolhandler, MD
---
---
---
PNHP Statement on



.
---
---
---
---